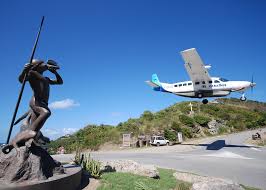 ST. BARTH'S HISTORY IS LONG, TUMULTUOUS
- AND FASCINATING.
St. Barth was originally inhabited by Arawak Indians; they were followed by the Caribs, who greeted Christopher Columbus when he arrived in 1493.
He named the island for his brother Bartoloméo. The French made
initial unsuccessful attempts to settle it until some determined Huguenots from Normandy persevered and prospered.
Later, French buccaneers made it a waystation as they plundered Spanish galleons, which adds to St. Barth's lore.
In 1784, France traded the island to Sweden, and the capital was named Gustavia - in honor of its king, Gustav III - and declared a free port. (To the delight of shoppers, it remains free.) In 1878, it was sold back to France, but charming reminders preserve the past in street signs and the Swedish Cemetery.
Those touches delightfully enhance St. Barth'sTourism took hold when Rémy de Haenen, an eccentric Dutch aviator landed his plane at what is now the airport.
He later became the first hotelier and the island's mayor.
Rémy hosted the era's luminaries - he was a friend of Howard Hughes - and Hollywood starlets. The '60s brought the Rockefellers and Rothschilds and saw the arrival of the first jet setters.
Thus, the mystique was created. The '70s brought spectacular yachts like Onassis's Christina into the Lilliputian Harbor in Gustavia.
In 2003 the population of St. Barth voted in favor of secession from Guadeloupe in order to form a separate Overseas Collectivity of France.
and on February 7, 2007, the French Parliament passed a bill granting the COM status. It took effect February 22. 2007.
The yachts continue to come, and in the evening, the twinkling lights are magical. During Christmas and New Year's - St. Barth's signature season
- the island gets an extra mesure of glitz and glamour. Contingents of the world's celebrities come to party, dine in its world-class restaurants, shop the designer boutiques and, of course, to see and be seen. Others come seeking privacy and relaxation.
They swim and sun at the more secluded beaches, stroll Gustavia and dine quietly, poolside, under the stars in their hillside villas.
Everyone melds nicely: honeymooners, families with children, locals and the front-page-news movie stars and moguls. It's St. Barth!