Unique properties & travel destination - Joshua Tree, California, USA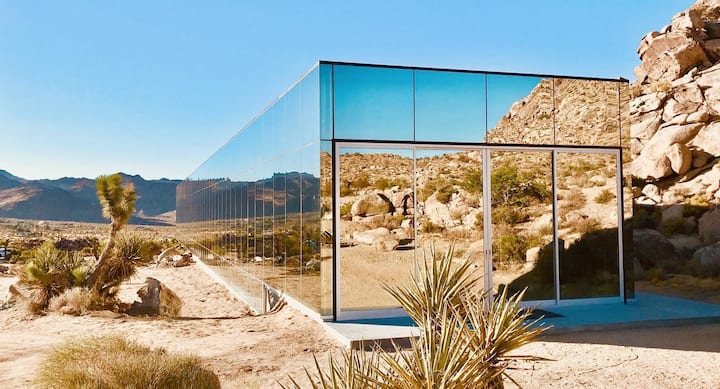 Welcome to Joshua Tree, California. A quirky and fun desert town for adventure seekers and nature lovers alike. Whether rock climbing, hiking trails or sunbathing, this unique destination has something for everyone.
First on your to-do list is a visit to Joshua Tree National Park. Spread over 790,000 hectares, this breathtaking park has some of the most spectacular rock formations and desert landscapes in the world. Hike one of his many trails, snap photos of the famous Joshua Tree, and look for wildlife such as coyotes, bighorn sheep, and even rattlesnakes (don't worry.).
If you dare, try rock climbing. Joshua Tree is a mecca for climbers around the world with thousands of routes to choose from. Whether you're a beginner or a seasoned pro, there's a climb for you.
Bring plenty of water, sunscreen and a sense of adventure!
After a long day of exploring, kick back and relax at one of the many quirky and cool Airbnb rentals in town. From retro Airstream trailers to geodesic domes, there's no shortage of unique and Instagram-worthy accommodations to choose from.
And if you're feeling social, head over to the Joshua Tree Saloon for some live music and a cold beer.
Getting to Joshua Tree depends on where you are from and how you travel.
If you're coming from out of town, the nearest airport is Palm Springs International Airport, about an hour's drive from Joshua Tree. From there you can rent a car or take a shuttle or taxi to your destination.
If traveling from Los Angeles or San Diego, the easiest way is to head east on Interstate 10 and take Highway 62 (also known as the Twenty-Nine Palms Highway) directly to Joshua Tree. Travel time from both cities is approximately 2-3 hours, depending on traffic conditions. From the North, head south on Hwy 395 to Hwy 58. Then go south on Hwy 14 to Hwy 247. East from there is Joshua Tree.
Some of the roads in and around Joshua Tree are narrow and winding, so regardless of how you get there, you should plan your route and check the road conditions in advance. Once there, prepare to be overwhelmed by the breathtaking desert scenery and unique atmosphere of this one-of-a-kind destination.
Our Concierges are at your service to organize your Joshua Tree trip.
Shopping in Joshua Tree
Finally, don't leave Joshua Tree without taking a stroll down Twentynine Palms Highway, the main drag in town. This colorful street is lined with funky boutiques, vintage shops, and art galleries, perfect for picking up a unique souvenir or two.
If you're looking for a shopping experience as unique and eclectic as Joshua Tree itself, you're in luck. This funky desert town is home to a wide variety of boutiques, galleries and shops, from handmade jewellery, vintage clothes and local art.
One of the best places to start your shopping adventure is the Joshua Tree Farmers Market, held every Saturday from 8am to 1pm. Here you'll find everything from fresh produce to handmade soaps to homemade bread. It's a great place to meet local farmers and artisans and stock up on delicious treats to bring back to your Airbnb. For a more upscale shopping experience, head to Hoof & The Horn, a stylish boutique specializing in bohemian clothing, accessories and home décor. Here you'll find hand-picked items that are perfect for adding a desert flair to your wardrobe or home.
If vintage is your thing, visit The End, a vintage clothing and furniture store that has been a staple of the Joshua Tree community for over a decade. Here you'll find an ever-changing selection of unique and one-of-a-kind items.
If you're looking for something special to take home, don't miss a visit to Art Queen, a gallery and gift shop featuring works by local artists and artisans. Here, everything from paintings to pottery to handcrafted jewelry is made by talented artists in the Joshua Tree area.
No matter your style or budget, shopping at Joshua Tree is a unique and rewarding experience not to be missed. Bring home a piece of this vibrant desert community with a little shopping therapy.
Where to stay in Joshua Tree ?
Our agency offers you the incredible Invisible House for your holiday short-term rental.
This state-of-the-art is a unique 4-bedroom house made out of mirrors overlooking the desert.
So what are you waiting for? Pack your bags, grab your sunscreen, and get ready for an adventure in Joshua Tree, California!